Asian Food
Ajumma's has rolled out some Survival Kits to tide you through this Circuit Breaker! Each Kit comes with all the necessary ingredients freshly packed for you to prepare a delicious Korean meal at the comfort of your home! We also provide a step-by-step picture Recipe Card to guide you along.

107 North Bridge Road, #B1-31, Singapore, 179105
Delivery Opening Hours: Monday – Sunday ~ 11:30 am – 09:30 am
---
Chunky Lobsters came to existence in an effort to bring delicious and affordable seafood to the shores of sunny Singapore.
3 various location
Operation Hours:
Sunday – Thursday | 11 am – 8 pm
Friday – Saturday | 11 am – 8 pm
---
Designed by experienced Japanese chefs with the freshest ingredients air-flown from Japan four times a week, our menu boasts both unparalleled quality and breadth of choice.

No.2 Keppel Bay Vista #02-01, Marina at Keppel Bay, Singapore 098382
Opening Hours: 11.30 am – 9 pm
*Delivery fee of $10 for orders below $80
Delivery is FREE when you order $80 and more!
---
Stepping out of the mould, Singapore's first "Fireless Kitchen" serves up affordable, hearty, and healthy protein bowls that are prepared without the use of open flames.  Primarily using sous vide cooking techniques, ingredients are vacuum sealed and cooked in a water bath at accurately regulated temperatures to deliver consistently tasty, juicy and nutritious meals.

@Funan, 109 North Bridge Road #02-04, Singapore 179097
Opening Hours Daily: 11 am – 9 pm | Last order: 8.30 pm
---
HarriAnns Nonya Table is a popular homegrown family business with humble origins dating back to the 1940s as a simple wooden push-cart, peddling freshly-made Nonya Kueh and Glutinous Rice in the Tiong Bahru district.
Various Location
No Minimum Order For Delivery
Delivery fee is measured by location. FOC delivery for orders $80 and above. 10% Discount for self-pick up at our outlets (Bugis Junction / Suntec City) with a minimum purchase of $20. Pre-orders only.
---

80 Mohamed Sultan Road #01-07/08/09. The Pier At Robertson Singapore 239013
Opening Hours: Monday – Saturday, 12 pm – 10:30 pm | Sunday, 12 pm – 10:30 pm
---
Set within a historic colonial bungalow and perched atop the forested Labrador Nature Reserve, nature and heritage harmonize at Tamarind Hill to present a gastronomic escape away from the city. With its timeless interiors, rustic-luxe décor, and epicurean dishes, the award-winning restaurant is an amalgamation of Asian and colonial influences, perfectly mirroring the city's storied past.

3 Temasek Boulevard, #01-455 North Wing, Suntec City, Singapore 038983
---
The future of healthy fast food is here to stay. At TGB, healthy is our way of life. If it is yours too, start your healthy journey with us today.

#01-26 1 Irving Place, The Commerze Building, Singapore 369546
Hours Of Operation: Monday – Friday, 8 am – 6:30 pm | Saturday & Sunday, 10 am – 6:30 pm
---
Western Food
ClubhouseSG is an upmarket indoor golf club in the heart of Singapore's CBD, which provides an oasis for like-minded people to meet, relax and have fun. We provide exceptional service, high-quality products and a warm ambience.
168 Robinson Rd #01-07, Capital Tower, Singapore 068912
Open for self pickups from 9 am – 2:30 pm
---

54 Jalan Kembangan Singapore 419119
---
Cafe Melba @ Goodman Arts Centre is a relaxed cafe and restaurant concept by Tadcaster Hospitality, which blends influences from (Melb)ourne and (A)sia for a gourmet yet leisurely dining experience. Already beloved in Singapore for breakfast all day, traditional weekend roasts, BBQ festivals, and the best kid-friendly atmosphere in the Little Red Dot.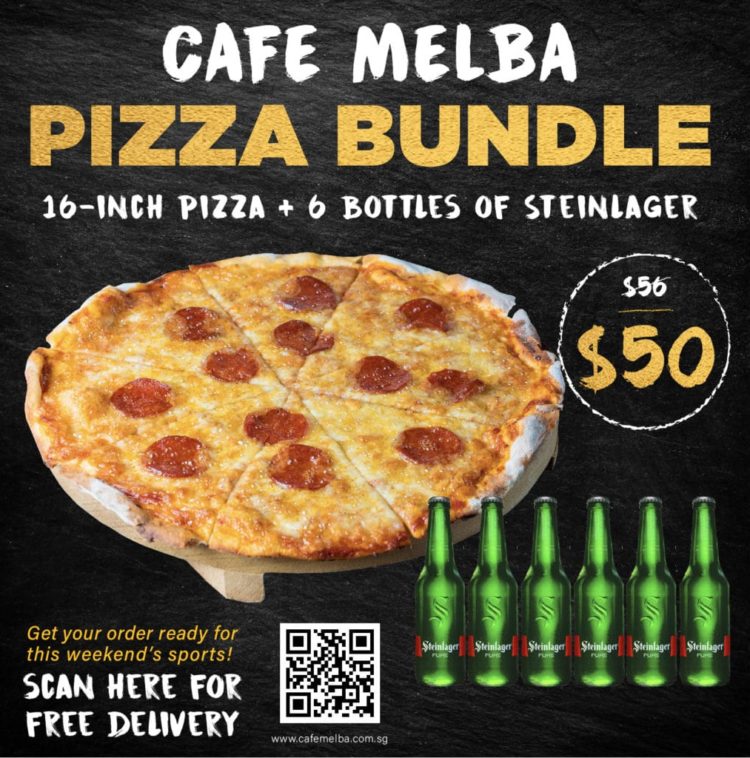 90 Goodman Road Goodman Arts Centre, Block N #01-56, Singapore
Self pick up timing 11 am – 9 pm, daily.
Delivery timing 11 am – 9 pm, daily.
---
During the circuit break period of 7 April – 4 May 2020, Choice Cuts Goods + Coffee are delivering food and beverage of their full menu all day, every day from 9AM to 7PM, within neighborhoods in the vicinity of the cafe. The menu consists of signature All Day Breakfast, Sweet Bites, Coffee and Teas.

451 Joo Chiat Road. #01-07. Katong Point, Singapore 427664
Delivery Areas: Tanjong Katong, Joo Chiat, Katong, Marine Parade, Telok Kurau
Time: 9 am – 7 am Daily
---
Singapore-based food innovator, is one of the premium gourmet food suppliers that combines the experience and knowledge of more than 50 years to meet your refined taste. Under the guidance of its visionary mentor, the Company is known for its innovative ideas that bring the concept of 'farm to fork' with enhanced quality and amazing presentation, so that customers feel delighted when they choose our products.

1 Jalan Dusun, One Dusun Residence, Singapore 329363
Opening Hours: Monday – Sunday, 12 pm – 9 pm
---
Established locally, Divine Artisan is a Halal-certified bakery dedicated to crafting artisanal desserts for your wedding or party.

3015 Bedok North Street 5, Shimei East Kitchen, #06-16/17 Singapore 486350
---
At Fika, serving home-cooked, traditional Swedish food and pastry is our passion. We use only the finest and freshest ingredients to create our dishes that will fill your belly and warm your heart.

257 Beach Road Singapore 199539
Opening Hours: Monday, 11 am – 10 am
---
During the circuit break period we offer special delivery menu for you to dine in at your own home.

32 Maxwell Road, (Tanjong Pagar MRT, exit B) Maxwell Chabmers,  01-05, 069115
---
GaZette is a cosy Belgian restaurant nestled in the bustling business district at Telok Ayer. Brought to you by two Belgians passionate about Belgian cuisine, beers and wines.

165 Telok Ayer St, Singapore 068617
Opening Hours for take-away and delivery:
Tuesday to Sunday non-stop from 11.30 am – 9.30 pm
---
Circuit breaker still going on, Gaston continues to deliver but the menu is changing in order to make you discover new amazing dishes.

25 Keong Saik Road Singapore 089132
Opening Hours: Every day from 12 pm – 8:30 pm until the end of the Circuit Breaker
---
Lad & Dad
Family-run establishment serving proper grub like beef stew, fish & chips, bangers & mash, bacon & chip butty, English fry up, scampi & chips, pigs in blankets, scotch egg and many more. Pair them with our British craft ale or gin. Bringing our pub to your hub with islandwide delivery!

7 Tanjong Pagar Plaza #01-108, Singapore 081007
Self pick up & Delivery Timing: Wednesday – Saturday from  12 pm – 9 pm
---
As the #circuitbreaker continues, plan ahead for the week with Luxe's Stay Home Family Packs, curated for smaller family feasts during these challenging times. Perfect for home celebrations or to surprise your loved ones with a sumptuous treat! Explore more options via our link, bon appétit!

8A Admiralty Street #01-34 Singapore 757437
Please note to place your orders 3 Working Days in Advance
Our EShop Operates at 10 am – 8 pm Daily
---
Greetings from Lombardos Burger – some say its the BEST burgers in Amsterdam!

15 Duxton Road, Singapore 089481
Self pick up timing: We are open from 11:30 am – 9:30 pm from Tuesday – Sunday.
Delivery timing: 11:3 am – 2 pm / 5:30 pm – 8 pm
---
During this tough time, Ma Cuisine will be there for takeaway and delivery. Due to new regulations, the operations hours are now from 11am to 8pm.

38 Craig Road Singapore 089676
---
Place 2 READ
Its Fusion Menu boasts of its signature melt-in-the-mouth, must try, Braised Lamb Shank, to selected Greek dishes like Moussaka and Yemista. Its Lamb Shank comes in a specially created sauce by the chef, and is served with seasonal vegetables and a side of silky smooth mashed potatoes. A touch of local flavour can be found in its Furious Pasta – an unforgettable dish with our local favourite Chilli Crab Sauce!

46A Prinsep Street #01-01 & 02-01 Singapore 188676
---
The word 'restaurant' derives from the French verb 'restaurer', which means 'to restore'. At Plentyfull, we want to create a place of restoration through honest, hearty food that is good for you and made with a heart that wants to see you joyfully satisfied and restored.

9 Raffles Boulevard #01-79/80, Millenia Walk Singapore 039596
𝐃𝐞𝐥𝐢𝐯𝐞𝐫𝐲 𝐇𝐨𝐮𝐫𝐬: 11 am – 7.30 pm Daily
---

77 Aliwal Street (S) 199948
Open Daily: 11.30 am – 8.30 pm
---
If you've ever spent time in North America, you'll know that every neighborhood needs a deli (kinda like how every sandwich needs a belly). We're about that community spirit too: even before we had a storefront, we spent our weekend throwing events and roasting hogs with our chef and bartender friends.

179 Telok Ayer St Singapore 068627
Operating Hours
Monday & Tuesday: Closed
Wednesday – Sunday: 11 am – 8 pm
Island-wide Delivery & Pick-up Timings
Pick-up: 30 Minutes Notice | Delivery: 90 Minutes Notice
---
During the current Circuit breaker Period, our Food & Drinks are available Takeaways or Islandwide Delivery.
Enjoy 10% Discount on Takeaway by Ordering Ahead and Bringing Your Own Container

47 – 49 East Coast Road, Singapore 428768
Quaffing Hours: Monday, 11 am – 10.30pm | Tuesday – Sunday: 8.30am – 10.30pm
Troffing Hours: Monday, 11am – 4.30pm, 6pm – 9.45pm | Tuesday – Sunday: 9am – 4.30pm, 6pm – 9.45pm
---
Serving set Lunches & Dinners, Rhubarb prides itself on not only delivering the highest standards, sourcing the best ingredients & wines but offering a wide array of value.

3 Duxton Hill Singapore 089589
Opening Hours: Monday – Saturday:  12 pm – 6 pm
Free delivery islandwide delivery with a minimum purchase of $150 (food and wine).
---

527 Bedok North St 3 #01-514 Singapore 460527
Islandwide delivery this Ramadan! Dinner/iftar orders delivered between 5-7 pm. Next delivery resumes at 8 pm so you can order for that after-terawih meal!
---
Tims Restaurant & cafe serving a fusion of both Western and Nepalese cuisine was established in 2006. Mr. Tom with years of experience from working as a western cuisine chef to manager in F&B industry, with his passion in cooking and to serve quality food. Mr Tom start his restaurant at the heartland of Toa Payoh.

Blk 95 Lorong 4 Toa Payoh, #01-52 Singapore 310095
Operating hours: 11.30 am – 10.30 pm | Lunch last order at 3 pm | Dinner last order at 10 pm
---
THE PLATTERING CO. sets out to deliver gastronomic and visual food experiences for every guest. Our menu is carefully crafted, food items sourced and prepared for an unforgettable dining experience.

20 Cavan Rd, Singapore 209851
Take $8 OFF your first-time purchase with promo code "EIGHTOFF"
Enjoy FREE delivery for all orders above $60 to 1 address with promo code "DELIVERFORFREE"
Opening Hours: Monday – Friday | 8:30 am–5:30 pm
Saturday, 9 am–1 pm | Sunday Closed
---
We're a cafe up in Amoy street with a small kitchen and no open flames, just sous vide and light cooking on induction.
But we make some great food. We cure meats, make a lot of pickles, practice slow cooking and make most of the stuff from scratch. The food we do is simple, comfort food. But it's done well. Think pizzas, Mac & cheese, brisket and the likes.

73 Amoy Street, Singapore
Delivery timing: 6-10pm daily
---
An osteria originated in Italy as a place for serving wine and simple, yet filling dishes of food to its clientele. The dishes are often served to shared tables, encouraging the diners and patrons to share the food, wine or other drinks.

4 Hillview Rise, #02-01, Hillv2 Singapore 667979
Opening Hours:
Monday – Friday 11:30 am – 10 pm daily
Saturday & Sunday 10 am – 10 pm daily
---
Wine Universe Restaurant
Renowned cheese fondue and selected wines are now available with free delivery!

9 Raffles Boulevard #01-109 Millenia Walk, Singapore 039596
---
Middle Eastern Cuisine
We opened our doors in May 2005 located in the enclave of iconic Arab Street. For 15 years, we have been serving high quality interpretations of classic dishes as well as tasty new ventures into uncharted territories of Turkish food.

15 Bussorah Steet Singapore 199436
We were awarded the Michelin Guide Singapore Bib Gourmand in 2016 and continue to work hard to bring Singapore an authentic taste of Turkey.
Self picks up timing – last order is 30 minutes before closing.
Opening Hours:
Monday – Tuesday: 11:30 am – 7:30 pm
Wednesday – Sunday: 11:30 am – 10 pm
---
Beirut Grill offers patrons a unique yet divine experience. From our cozy interior and décor, to scrumptious meals, Beirut Grill offers a Lebanese style of Middle Eastern dining along the historic Bussorah Street with the majestic Sultan Mosque as a backdrop.

72 Bussorah Street Singapore 199485
Opening Hours:
Tuesday – Friday 11.30 am -10 pm
Saturday & Sunday 11.30 am – 11 pm
---
Our menu features an exquisite Lebanese taste and is freshly prepared with finest ingredients imported directly from Lebanon. Promising you high-quality dishes, our meat are freshly prepared for you prior to your order.

14 Bussorah Street Singapore 199435
Opening Hours: Monday – Sunday | 11 am – 1 am
---
Donergy Turkish Kebab is a gem hidden @ Millenia Walk serving savory Turkish varieties of Doner Kebabs and Pides. We would start every morning with stuffing the meat on vertical rotisserie and let it start grilling slowly while rotating – here comes the name Doner which means rotating in Turkish.

9 Raffles Boulevard, Millenia Walk #01-90, Singapore
---
We are a modern Middle Eastern restaurant that defies tradition and explores the facets of creativity to offer an elevated, energetic and engaging dining experience. Let your hair down and soak in the sights and sounds of our stylish surrounds and funky beats; all while enjoying our unconventional kebabs and "koktails", inspired by the streets and stories of today's nomad.

48 Peck Seah St Singapore 079317
Opening Hours: Monday to Sunday | 11 am – 10.30 pm
* Delivery and Pick-up only.
Pick-up will be at Summerlong (60 Robertson Quay #01-04)
---
The menu is 100% vegetarian and 100% halal – mostly sandwiches in pita (Arabic) bread, salads and dips. Everything is prepared on-site daily except for our pita bread. Our pita is sourced freshly baked every morning from a local bakery. We don't use eggs, butter, or milk in any of our dishes and many items can be served without garlic and onion.

3 Pickering Street, #01-29 Nankin Row, China Square Central Singapore 079903
Monday – Friday: 11 am – 3 pm | 5 pm – 11 pm
Saturday: 9 am – 5 pm
---
Kazbar is your fortress
Step in to Kazbar for a Middle Eastern culinary experience and leave with a kaleidoscope of flavours, we will transport you to the Middle East.

25 Church St. #01-03; Capital Square 3 Singapore 049482
Opening Hours: Monday to Sunday
Lunch 12 pm – 2:15 pm
Dinner 5 pm – 9:15 pm
---
Your one stop kebab shop! All kebabs are freshly prepared daily with passion, using the best cuts and marinated with herbs and spices, roasted to perfection. We desire to provide mouth-watering kebabs, generous portions that are healthy and a great value for money!
Self pick up timing: 11 am – 9.30pm
Delivery Timing: 11.30am – 9.30pm
---
Turkish and Mediterranean food stall at an open air dine or take away place located in Satay by the bay, Stall # 8.

Satay by the Bay,Stall no. 8,18 Marina Gardens DR, #01 – 19, Singapore 018953
Self pick up  11:30 am – 9 pm Monday to Sunday.
Delivery  11:30 am – 9 pm Monday to Sunday depending on the rider availability.
---
In light of the current situation where the majority is working from home or serving the Stay Home Notice (SHN) we understand that you miss our freshly baked Pitas, warm crunchy Falafel, smooth creamy Hummus and Babaganoush.

29 bali lane Singapore 189865
Delivery time: Monday – Sunday | 10 am – 3 pm
Minimum order: $30
Delivery charges – depends on location
---

161 Telok Ayer St, Singapore 068615
Opening Hours :
Monday – Friday : 11 am – 03 pm (Last order at 02:45 pm) | 06 pm – 10 pm (Last order at 09:45 pm)
Saturday: 10:30 am – 10 pm (Last order at 09:45 pm)
Closed on sunday
---