Learn how to do stand-up comedy in one weekend of intensive learning with The Merry Lion's very own Aidan Killian!
From basics in public speaking to building and releasing tension in an audience, come join this once in a lifetime opportunity where a master comedian shows you not only how to be funny, but how to make a mark on your audiences.
Spread across three days, this workshop culminates in a live performance where participants put themselves to the test in front of a live audience!
At an affordable $250, this workshop is a surefire way to learn the ins and outs of the funny business, and maybe unleash something in you that you never knew you had!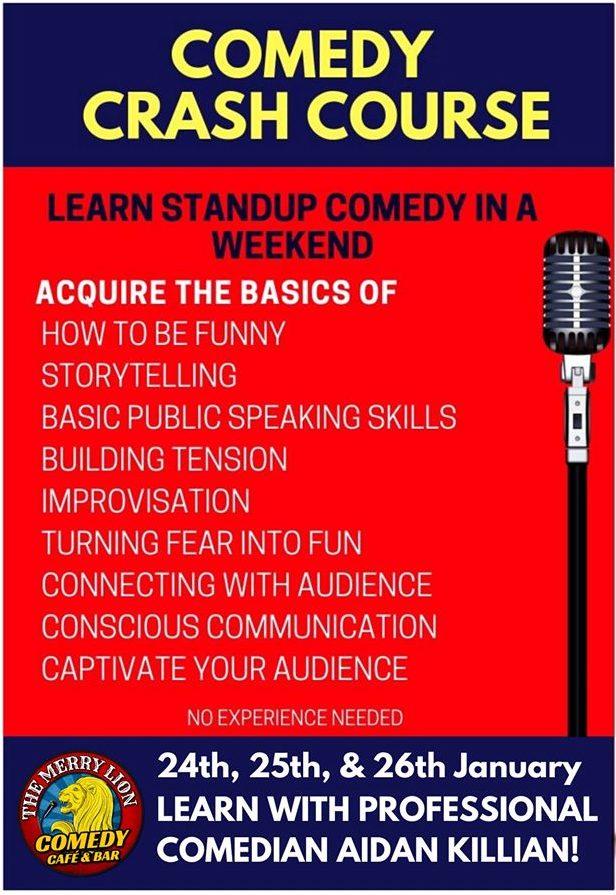 ---
About Aidan Killian
A passion-driven ex-banker that used to teach comedy, story-telling, and public speaking at the Gaiety School in Ireland, Aidan Killian is a master performer with over 10 years of experience in stand-up comedy.
A regular at the Edinburgh Fringe Festival, Aidan was a 'Highlight' at the 2016 Glastonbury Festival and was nominated for Best Comedian at the 2017 World Fringe in Perth, Australia.
Showrunner of Asia's largest comedy festival - the Magners International Comedy Fest - Aidan is a brilliant comedian and inspiring teacher, the perfect combination for a weekend of hilarity.
Friday, 24th Jan - 6.00pm - 7.30pm
Saturday, 25th Jan - 10.00am - 5.00pm
Sunday, 26th Jan - 10.00am - 5.00pm
Monday, 27th Jan - Graduation gig
Fee: $250 Early Bird ($350 Regular)
Participants are required to commit to all days of the workshop.
---